Our local forests, walking paths and countryside lanes are the perfect places to visit for those wanting to forage for Christmas decor. The countryside has so much to offer, providing vibrant colours and natural scents to be enjoyed within your home. Grab your basket and use this list below to bring the outdoors in this Christmas.
HOLLY
Holly is a well-loved shrub that shelters birds and gives hedgehogs a cosy place to hibernate, it is also the perfect addition to any Christmas homemade decor with it bright red berries and glossy leathery leaves it elevates any design. Holly shrubs and trees can be found in woodland, scrub and hedgerows, especially in oak and beech woodland.
STYLING TIPS
Weave short holly branches into your wreath ring to add vibrance and texture, you also add two other leaf varietys to make your wreath full. For elegant gifting use a wide velvet ribbon to tie your Kraft paper wrapped presents and slide a short holly branch under your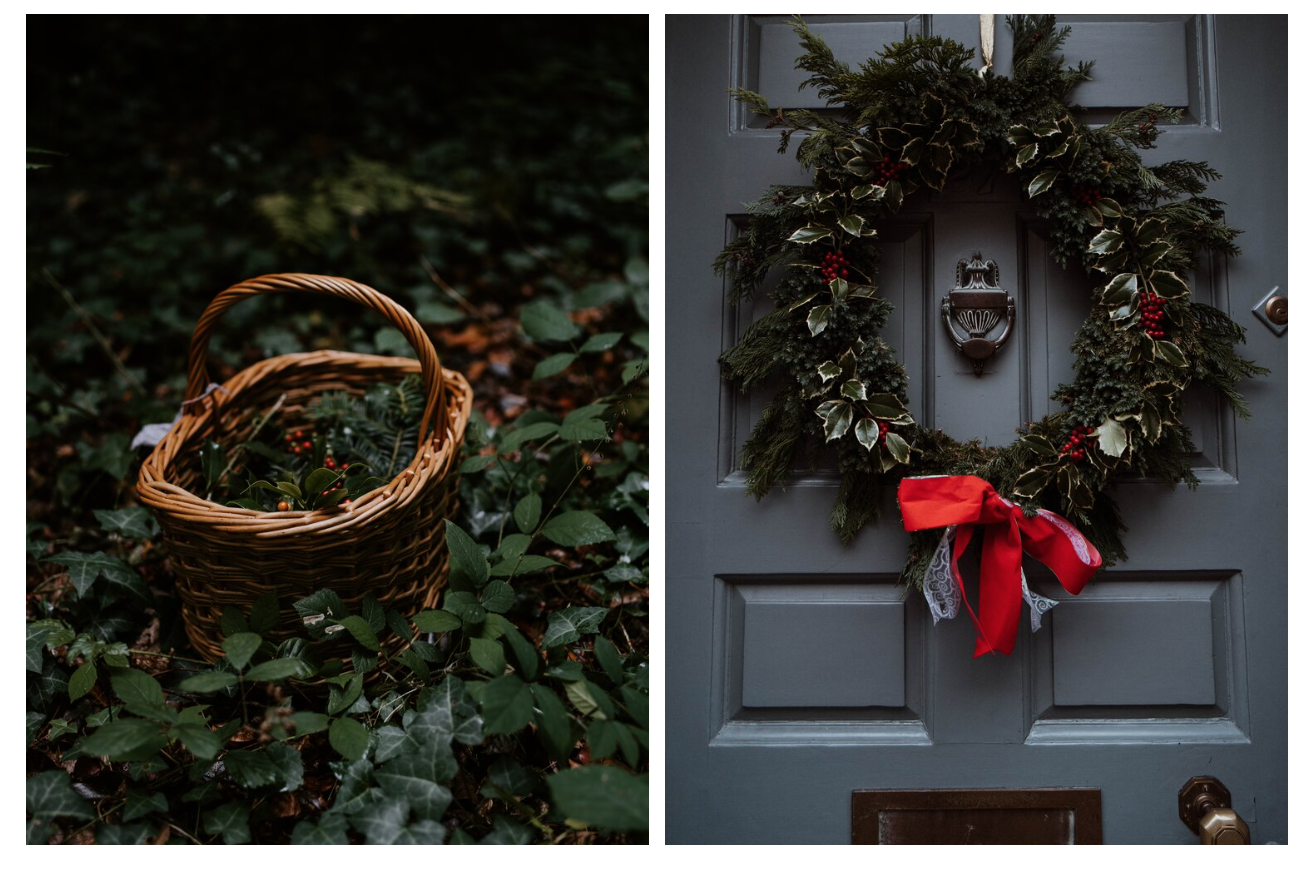 PINECONES
The UK has three native conifers: 1. Scots pine has traditional pine cones, 2.Juniper cones have tiny fleshy scales and look more like berries, and 3. Yew seeds are encased in arils which look like red, juicy, berries open at the tip. The best place to look for pinecones is under conifer trees in woods, we suggest giving them a wash or banging them out to get rid of any little friends before bringing them into your home.
STYLING TIPS
Place a pillar candle into a hurricane vase and surround the bottom of the candle with paint sprayed pinecones. We suggest laying a table runner and placing one large pinecone filled hurricane vase in the middle of the table runner, two candlesticks on either side of the large hurricane vase and a further two smaller pinecone filled hurricane vases on either side of the candlestick holders for a showstopping centrepiece.
You could even string your pine cones for your Christmas tree or add them to your wreath!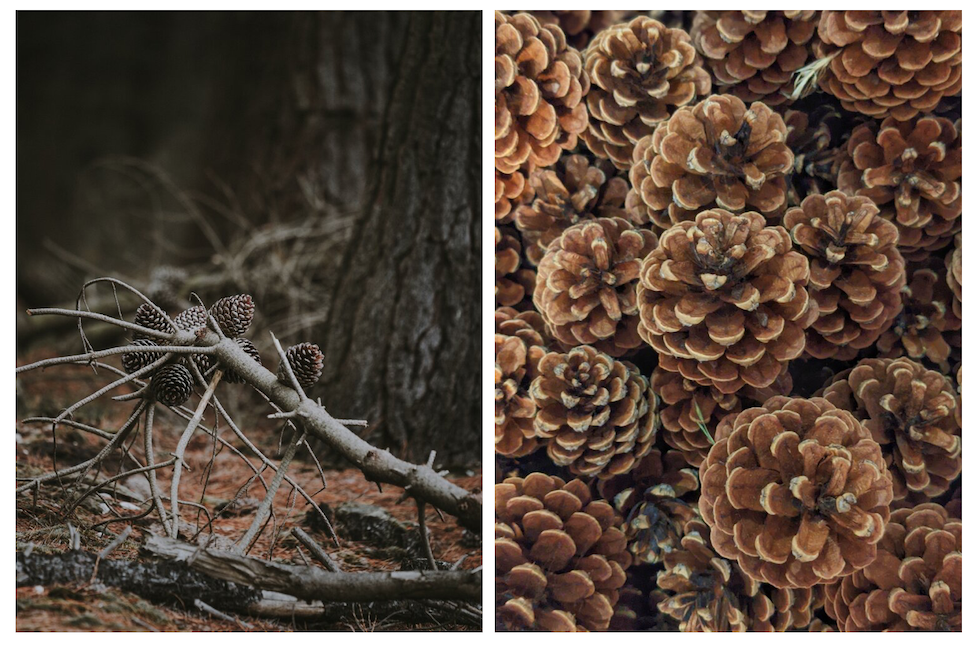 MISTILETOE
Mistletoe is commonly found in, Wales, the south and the West Midlands of England, with a large population in Gwent, Herefordshire, Worcestershire, Gloucestershire and Somerset.
Many people do not know that this mistletoe is actually a small semi-parasitic evergreen shrub which forms large spherical balls up to 1m wide in the tops of trees.
FYI: Mistletoe leaves, stems and berries are all poisonous so remember to wash your hands.
STYLING TIPS
The evergreen leathery leaves grow in pairs and are adorned with pearl-like white berries, making them ever so attractive when hung. We suggest finding a pretty red satin ribbon and hanging a small bunch of mistletoe from your door frame. Alternatively, a series of draped mistletoe interwoven with lights hanging down from the top of a dining room mirror would also make for a fancy and festive christmas display.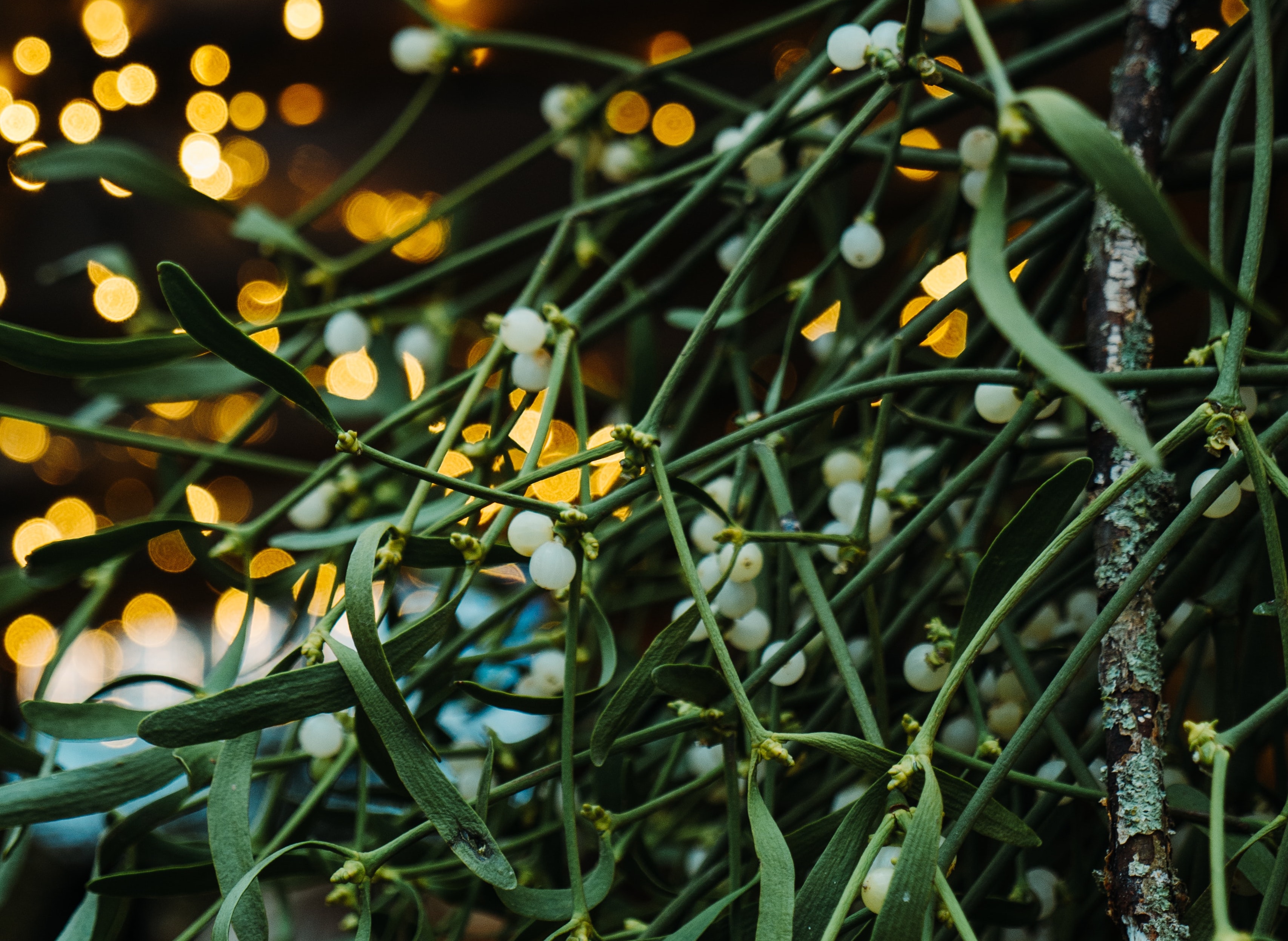 EUCAALYPTUS
The Eucalyptus stalks are long in length making them perfect for floristry, with distinctive blue-green coloured leaves. Two of the most common species of eucalyptus in the UK are the cider gum (Eucalyptus gunnii) which can be found in great numbers on the Essex coast, and the Tasmanian blue gum (Eucalyptus globulus) which is the primary source of eucalyptus oil and grows plentifully in Cornwall and Ireland.
STYLING TIPS
The Eucalyptus is a well-known and used favourite foliage amongst many florists for many reasons; it's beautiful aesthetic, versatility and longevity. Because of its long stalks, you can feed them through the bannister of your staircase, down the length of your Christmas dinner table or draped across your mantelpiece with other foraged goods and candles.