Spring has sprung, and we now get to enjoy the delicious fruits and vegetables of this bright season. What could say 'spring' more than a classic British pie… We are switching traditional apples for rhubarb with its intense flavour and robust texture, as this vibrant vegetable is now in season here in the UK.
Serve your pie piping hot and smothered in custard or a dollop of vanilla icecream.
This recipe serves 6-8 people.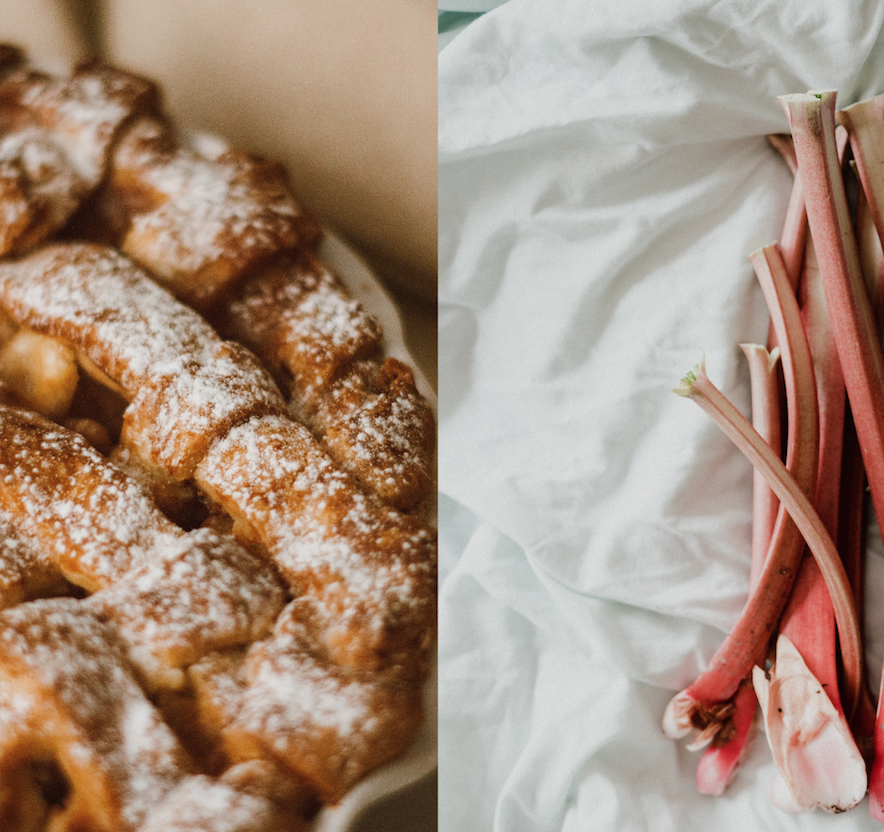 Ingredients
Filling
2 large bunches of British rhubarb, trimmed
120 gm raw sugar
Juice and finely grated rind of 1 orange
1 tsp cornflour, mixed with 2 tsp water
Pastry
1¾ cups (260g) plain (all-purpose) flour
½ cup (75g) self-raising flour
⅓ cup (55g) icing (confectioners') sugar
185 grams unsalted butter, chopped
1 egg
1 tablespoon iced water, approximately
Pastry Instructions
Process both flours, sugar and butter until you have a crumbly mixture.
Add your egg and add water (use enough you need) to help bind your ingredients together.
Knead dough on a floured surface until smooth. Wrap your dough in a wrap (reusable/ cling film). Refrigerate for 30 minutes.
Grease a deep 24cm (9-inch) round tin. Roll three-quarters of the pastry between sheets of baking paper until large enough to line tin. Ease pastry into tin, press into base and side; trim edge. Refrigerate 30 minutes.
Filling Instructions 
Preheat your oven to 190C.

Wash the rhubarb and remove the tough outer fibres, leaving as much colourful peel as possible

Chop your rhubarb into 5cm pieces, then transfer to a medium-sized saucepan

Add the sugar, orange juice and rind, and cook over medium heat until the rhubarb starts to seep liquid and the outsides soften. (Around 2-3 minutes).

Transfer your fruit to a 23cm-diameter pie dish with a slotted spoon

Whisk the cornflour and water into a smooth mixture and bring to a boil. Whisk until a syrup forms ( usually takes 2-4 minutes). Pour the mixture onto rhubarb and leave to cool off slightly.

Roll remaining pastry out until 3mm (⅛-inch) thick, cut into 1cm (½-inch) strips.

Place pastry strips over filling in a lattice pattern; trim ends. Brush top with remaining milk; sprinkle with demerara sugar.

Bake pie 20 minutes. Reduce oven to 180°C/350°F; bake further 10 minutes or, until filling is bubbling and pastry is golden.

Serve warm with ice-cream or custard.